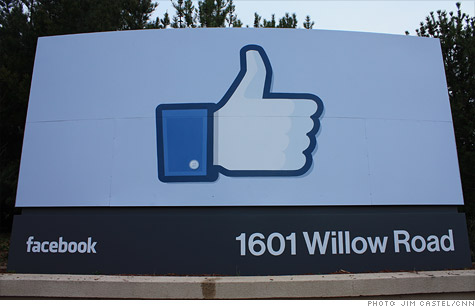 NEW YORK (CNNMoney) -- Facebook surpassed 900 million active users last month, according to a regulatory filing, helping the social network post more than $1 billion in sales in the first quarter.
But the company's growth rate, though still staggering, continues to slow. Facebook's monthly active user count -- the number of users that engage with the site at least once a month -- grew by 33% in the first quarter over the first quarter of 2011. A year ago, the network was growing at a 58% annual clip, and in the first quarter of 2010, that number was more than doubling.
Facebook said that it earned $205 million in the first quarter on $1.1 billion in sales. Both revenue and profit fell from the fourth quarter of 2011, which Facebook chalked up to typical advertising sales slowness in the first quarter compared to the fourth.
"We believe that this seasonality in advertising spending affects our quarterly results," the company said in the filing.
Though sales grew by 45% over the first quarter of 2011, net income was also down 12% from the first quarter.
Meanwhile, the company's closely-watched cash hoard remained virtually unchanged in the first three months of the year from the $3.9 billion it registered in the prior quarter. That's despite adding 339 employees last quarter, growing its headcount by 11% -- growth that it said it anticipates sustaining "for the foreseeable future."
The company said it forecasts capital expenditures of up to $1.8 billion in 2012.
Facebook's stock is expected to begin trading sometime in mid-May. By then, most analysts estimate Facebook's valuation will fall somewhere between $85 billion to $100 billion.
http://SocialBusinessToday.net - The Best in Social Business